Nintendo is one of the biggest names in gaming and its E-Shop has a huge selection of games. Check out our list to find out which Nintendo E-Store you're going to need for your next game purchase!
"cheapest eshop region switch" is a game that allows you to find out which Nintendo E-Shop is the cheapest! The game will give you a list of all the regions and their prices.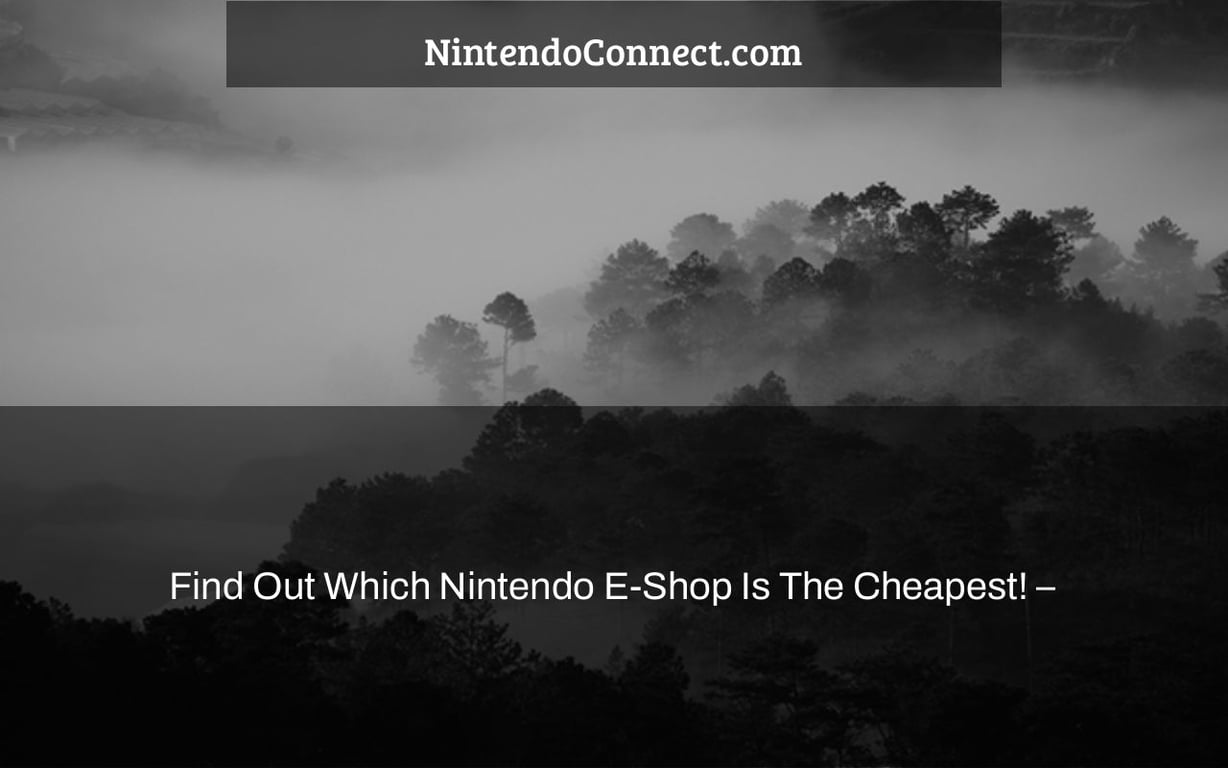 I'm sure you've wondered which Nintendo E-Shop offers the greatest deals so you can acquire all of your favorite games for the lowest price. I looked up the solution to this question on the internet.
There is no cheapest Nintendo E-shop as the price will vary from region to region which depends on the region's currency strength against the global economy usually the dollar. However, South Africa & Mexico are often the cheapest with Switzerland being the most expensive.
Check out my video below for a tour on how to discover the lowest Nintendo E-Shop and save money on your favorite game!
So, now that you know how to discover the cheapest Nintendo E-Shop to buy all of your favorite games, how do you change the location of your Nintendo Switch's E-Shop?
Don't worry, I'll tell you what happens next.
Are you looking for the greatest Switch accessories? By clicking here or on the button below, you may get the greatest Switch goods on Amazon for yourself or a friend.
How to Change the E-Shop Location on Your Nintendo Switch
Nintendo E-Shop has 27 different regions that are split up into 3 different regions. the Americas, Asia Pacific and Europe, Middle East & Africa. It is very easy to access different regional prices and the countries currency relative to the global economy would drastically increase the prices of games.
The cheapest areas are usually South Africa and Mexico, with Switzerland being the most costly. Here's how to switch between E-Shop regions on your Switch.
Per area, you can only have one account.
To begin, go to Nintendo.com and create an account. Use a real email address, complete the processes, and choose your preferred region.
Then go to your Switch a create a new user system settings> user>add user>create the user>link the Nintendo account you just created
Connect your Nintendo account with the new user you just made.
Congratulations! Once you've opened the E-Shop with your new account, you'll have access to those nations' E-Shops.
Check out the video below for a step-by-step guide on everything from setting up your Nintendo account to adding a new user and tying it to that account!
What are the prices of games on the Nintendo eShop?
Nintendo E-Shop games retail for different prices like a normal retailer like Amazon. Animal Crossing: New Horizons a new game & retails for £49.99 and in the UK retailer Argos the physical copy retails for £44.99 so actually £5 cheaper than the Nintendo E-Shops digital copy!
This implies that the Nintendo E-Shop is pricey, which it is, but if you use the strategy above and create many accounts for various locations, you may get the best deal.
Animal Crossing is just £39.17 in the Brazilian Nintendo E-Shop, according to the E-Shop price checker website, yet the same game costs £65.52 in the Swiss Nintendo E-Shop! This is a £26.25/$32.65 discrepancy, demonstrating how drastically pricing may vary.
You may argue that game pricing on the Nintendo E-Shop are excessively expensive when physical copies are cheaper and can still be sold; you might have a point. If you're curious about why Nintendo Switch games are so pricey, please see my article here, where I go into the matter in further depth.
Is there ever a deal on the Nintendo eShop?
Yes, the Nintendo E-Shop has discounts rather regularly, however as you can see from the graphic above, the offers are sometimes lackluster, such as £5.21 being dropped from £5.79 (a difference of 0.72 cents) for "Can Androids Pray: Blue," although there are also extremely fantastic bargains on occasion.
Final Fantasy 7, one of the finest games of all time, is available with a 50% discount, as you can see above! Because this is the definitive version with plenty of stuff added, certain Nintendo E-Shop deals may be really valuable, so keep an eye on the E-shop on a regular basis to catch them.
Although the bulk of the games on sale will be third-party or independent titles, there will still be some amazing offers, such as Final Fantasy 7. Certain game companies are notorious for having more regular sales than others, so keep an eye on the E-Shop for the best bargains.
Aside from select black Friday sales and very rare circumstances, first-party AAA Nintendo games (think Mario, Zelda, and Smash) are nearly never on sale. Consider how much the 2017 Super Mario Odessy costs on the E-Shop three years later. £49.00/$61.03!
Even first-party spin-offs have merit! This isn't so much a problem with the E-Shop as it is with Nintendo games in general. I go into a lot more depth on why Nintendo games are so costly in my article, but I'll give you a basic overview.
Nintendo games are usually pricey and never on sale since you have to play them on a Nintendo device, in this instance the Nintendo Switch, if you want to purchase them.
Because you have no other choice, Nintendo can afford to raise their pricing, which is why the Nintendo E-Shop is so pricey. Outside of the E-Shop, first-party Nintendo games are still pricey. Take a peek at the pricing of a Super Maro Odessy on eBay.
With approximately 6 hours remaining, only the Cartridge of Super Mario Odessy is a huge £37.00/$46.08! AAA Nintendo games will always be costly, whether purchased via the E-Shop or elsewhere.
Will there be a Black Friday discount on the Nintendo eShop?
Yes, the Nintendo E-Shop had a spectacular Black Friday deal in December 2019, and it was one of your few opportunities to acquire a discounted AAA Nintendo game or a major third-party game like Xenoblade Chronicles 2 on sale.
The sale had a decent select of selected titles 50% off including Celeste & Doom whilst even Legend Of Zelda Breath Of The Wild was reduced from $60 to $42 and Xenoblade Chronicles 2 reduced by the same amount.
Below is a breakdown of the highlights of the Nintendo E-Shop 2020 Black Friday sale. You may also see RGT 85's video on the Black Friday 2019 sale, in which he discovers all of the finest offers.
You don't want your switch to be taken? Protect your switch with a tile mate, discover more about the greatest switch accessories, and enjoy hours of fun on Amazon.
The "nintendo eshop sale tracker" is a website that allows users to find out which Nintendo E-Shop is the cheapest. The website has been around since December 2015, and it's still going strong!
Frequently Asked Questions
Which region Nintendo eShop is cheapest?
A: Nintendo eShop is region free, so there are no regions that have cheaper prices.
Does Nintendo eShop have regional pricing?
A: The Nintendo eShop does not have regional pricing. However, you can purchase games from the US store and a different region using an Australian account for example.
Which Nintendo switch region is best?
A: The Nintendo Switch is region free, so there isnt a best region
Related Tags
nintendo eshop price checker
nintendo eshop card
cheapest eshop region reddit
nintendo switch eshop
nintendo eshop prices by country