Animal Crossing has been a staple of Nintendo consoles for nearly two decades. Despite the game's age, it continues to be one of their best sellers and is still worth picking up today on the Switch. Find out if Animal Crossing warrants your purchase in our review!
Animal Crossing is a game that many gamers are interested in. If you're one of those people, then the "nintendo switch animal crossing edition" might be worth your time and money.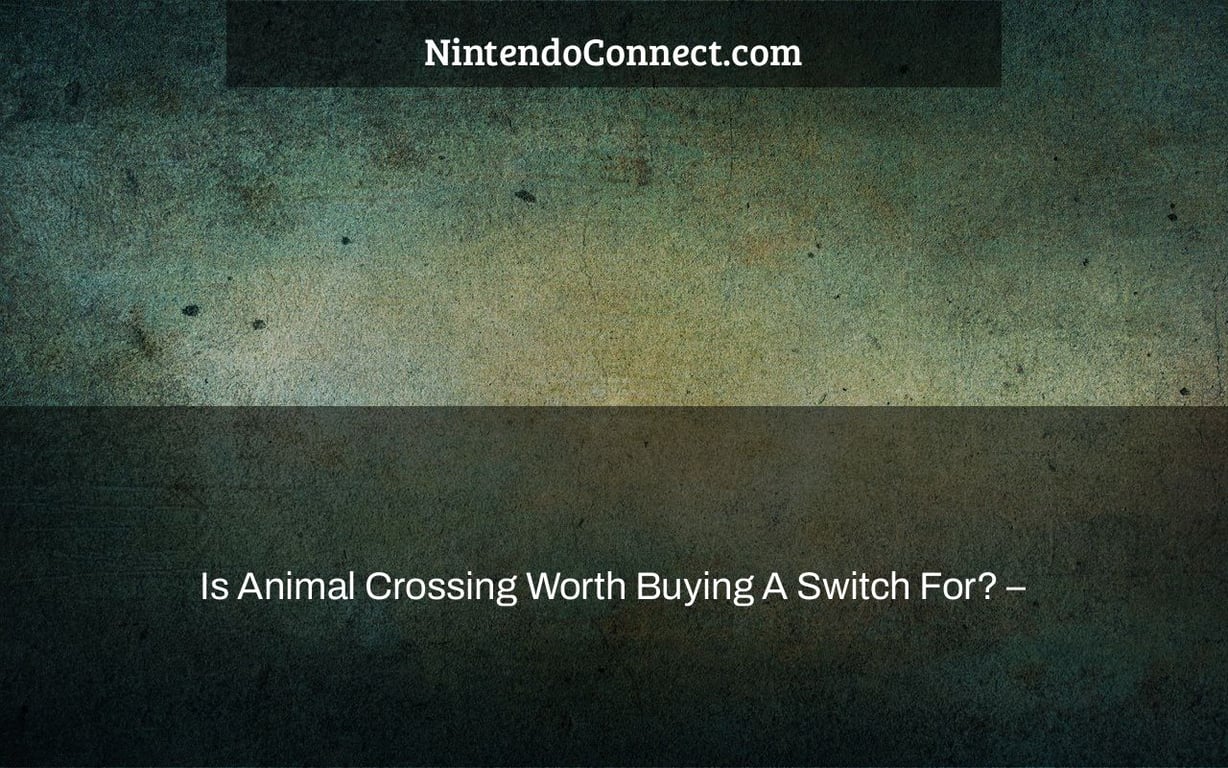 Animal Crossing New Horizons is one of the greatest games on the Nintendo Switch, offering hours upon hours of entertaining gameplay, but is it worth purchasing a Switch for? I made the decision to find out.
Animal Crossing is a lifestyle game with thousands of hours of gameplay potential; if you like this genre, a Switch is worth purchasing since it is a wonderful sequel with hundreds of other Switch games to select from. Buying the cheaper Switch lite provides you the same Animal Crossing experience.
Animal Crossing New Leaf, the game that came before Animal Crossing Switch, was famously played by a grandmother for almost 3500 hours, so she definitely got her money's worth!
See the gaming Granda in action in the video below!
Do you want to know whether the Switch Lite is worth it? I believe it is an excellent solution for gamers who solely want a portable experience; for more information, visit my essay here.
Is Animal Crossing New Horizons Worth Buying?
This depends on your gaming style; do you play games for three hours or more at a time, or do you pick it up and play for 10-30 minutes multiple times a day? If that describes you, Animal Crossing is a perfect fit for you!
It's a game that demands your attention; I recall purchasing my first Animal Crossing game for the Nintendo DS Wild World after seeing it on a video game TV program, where you could grow and plant genuine money trees! My 10-year-old self couldn't believe what she was seeing.
This life simulation genre is very popular, as seen by FarmVille's achievement of 20% of Facebook's active user population in 2018. Animal Crossing is an example of this style of game.
You design your own fully customisable character, with restricted access to your island at first, and as the appointed island Mayor, you are entrusted with changing the island into a thriving, busy coastal town.
All materials are helpful, and you have total control over where everything is placed thanks to a revolutionary DIY system that allows you to build whatever you can imagine!
Everything you can imagine from previous generations has been improved; all of the villages you visit and places you visit are charming; your footsteps change in the rain; and graphically, it is stunning and one of the best-looking games on the Switch; see Nintendo Life's review for more information.
You can get the game for the greatest price on Amazon here, and while supplies last, you can get a special Nintendo Switch package that includes an unique island-themed console, switch dock, Joy-Con controllers and straps, as well as a download ticket for the game.
However, just like in real life, trees and buildings take time to grow, and in-game construction of houses or buildings can take a day or more to complete. While you can do side missions and visit other islands to get supplies, if all you do for three hours is collect shells, fish, and bugs to sell, it can get boring quickly.
If this seems uninteresting to you, I still advocate purchasing a Switch since it is the first real hybrid between a handheld and a console. For more information, check here. There are a plethora of games available for the Switch, ranging from action games to role-playing games. Here are my top 40 Switch games.
Whether you're not sure if Animal Crossing is appropriate for you, the Nintendo Switch Lite is the best choice. You can always return your Nintendo Switch or Animal Crossing if you purchased it from Target, Amazo, or Walmart within 30 days of purchase.
Click here to acquire a Nintendo Switch Lite at a great deal.
Animal Crossing: New Leaf Requires Which Nintendo Switch?
All Nintendo Switch games, including Animal Crossing, are playable on both the Nintendo Switch and the Nintendo Switch Lite. The Switch Lite cannot be attached to a television and can only be played in handheld mode, while the Switch can be docked and played in handheld mode.
To figure out which Nintendo system is best for you, check out the video below, which compares both consoles. The Lite is much less expensive than the Switch, but it cannot be played on a television, making it less family friendly.
Is it necessary to purchase Animal Crossing for each switch?
'Only one island may exist per Nintendo Switch system, regardless of the number of user accounts registered or copies of the game utilized on one device,' according to Nintendo Australia is a company based in Australia., so yes, one Switch and one copy are necessary to really enjoy each unique island.
You may now play local screen multiplayer with 1-3 people on one Switch with each participant requiring one Joy-con, but you'll need another Switch and another game to create your own Animal Crossing experience.
I realize it's inconvenient, but there is a method to acquire Animal Crossing for less money! If you're interested, you may purchase it digitally at several countries' E-Shops. For more information, see my guide here.
Here's the complete statement from Nintendo Australia is a company based in Australia.:
On a Nintendo Switch system, up to 8 users with registered accounts may dwell on one shared island, and up to four inhabitants of one island can play at the same time on one device. Please keep in mind that each Nintendo Switch system can only have one island, regardless of how many user accounts are registered or how many copies of the game are played. For each unique island, you'll need a Nintendo Switch and a copy of the game.
Nintendo Australia is a company based in Australia. 
Animal Crossing is all about creating your own unique experiences, so you'll need another Nintendo Switch whether you use a different profile, purchase a separate copy, or download a physical copy.
Unlike Animal Crossing New Leaf on 3DS, Nintendo Switches all save game data on internal storage (read here why), therefore no matter which copy you play, your game will load the same save file from the same spot! Isn't it just devastating?
Please review this Animal Crossing World article for additional details on the subject as well as potential solutions.
Is it better to buy Animal Crossing in physical or digital form?
Because Animal Crossing is a game meant to be played in short bursts, going digital saves you the time of constantly changing cartridges. Physical original Nintendo games, such as Animal Crossing, have a high resale value, so owning one means you can sell it later.
I always purchase physical games since original Nintendo games retain the majority of their value, and Animal Crossing will still be worth the same in 5 years. For more detail on the debate between physical and digital games, see my article here or watch my YouTube video above.
However, depending on whether Nintendo is having a sale or which E-Shop nation you're in, digital games may be cheaper, but did you know you can alter your Switch's E-shop to obtain better prices? This isn't a joke! See my tutorial on how to find the cheapest E-shop titles for your Switch here; you'll never overpay for a game again!
Products to Recommend
Nintendo Switch version of Animal Crossing: New Horizons (Amazon Link)
Switch Animal Crossing: New Horizons Edition (Amazon Link)
Nintendo Switch Lite is a simplified version of the Nintendo Switch (Amazon Link)
Animal Crossing is a game that has been around for years. The Switch version of Animal Crossing was released in March 2018 and can be bought on the Nintendo eShop. It's worth buying if you're looking for a new game, but not worth it if you already own the game on other consoles. Reference: nintendo switch games.
Frequently Asked Questions
Is Animal Crossing for the Switch worth it?
A: Animal Crossing Switch is a great game. It was one of the best games released in 2018, and for good reason. The original NES game had a world that felt like it was alive to you, with things happening all over town that made you feel like there were other people around on this little island paradise.
Is the Nintendo Switch Animal Crossing Edition better?
A: The Nintendo Switch Animal Crossing Edition is a limited edition console only available in Japan. It comes with different colors and pre-installed games, but its hardware specs are essentially the same as other models of the Nintendo Switch.
Related Tags
nintendo switch animal crossing edition vs normal
animal crossing switch vs regular switch reddit
nintendo switch
is the animal crossing switch worth it reddit
animal crossing switch 2021