Dragon Quest 11: Echoes of an Elusive Age is a grand JRPG and a port to the Nintendo Switch. As with all games, it comes with some inherent flaws that need to be considered before purchasing this title on any platform. We dive into what you should know about your wallet and whether or not Dragon Quest XI is worth buying on the switch
Dragon Quest XI: Echoes of an Elusive Age is a role-playing game developed by Square Enix and published by Nintendo. It was released on the PlayStation 4, Xbox One, and Microsoft Windows in 2018. Dragon Quest XI has been praised for its graphics, sound design, and gameplay.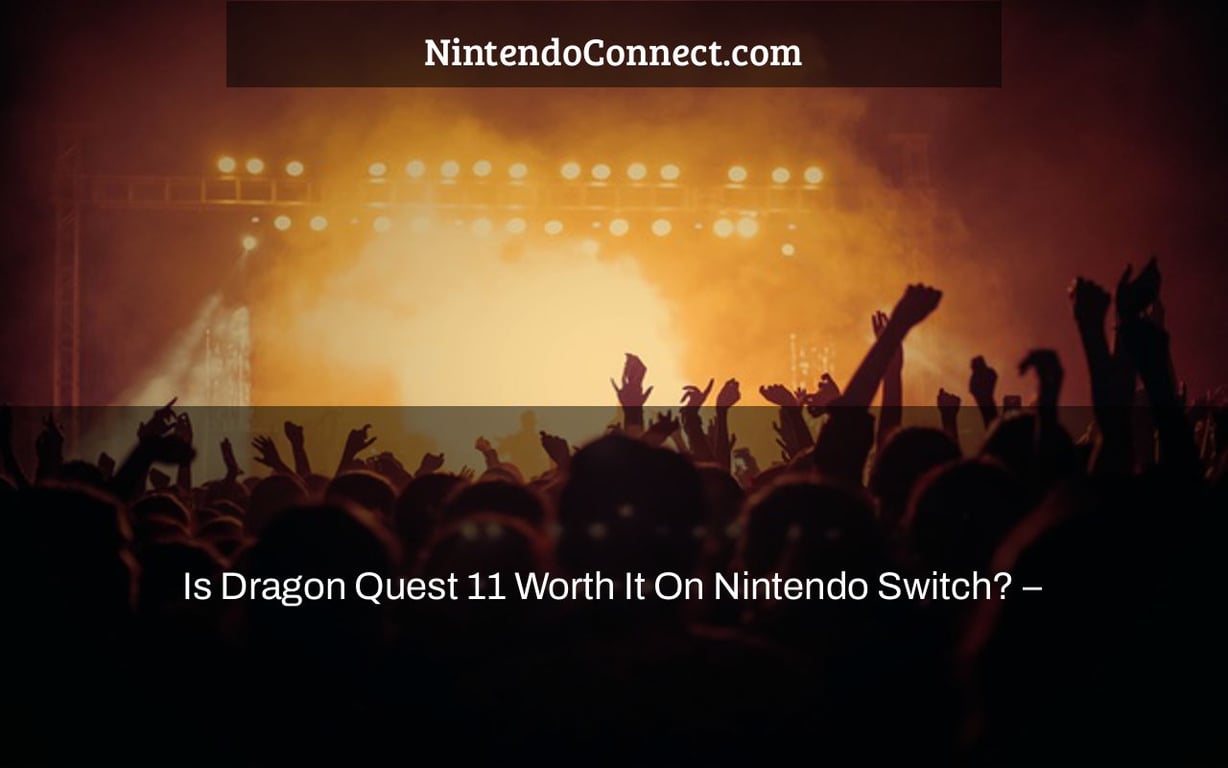 For the last several months, I've been playing Dragon Quest 11 nonstop, but is it worth it for you on the Nintendo Switch? I'll talk about why I believe it's one of the finest RPGs ever developed, and why I think the Switch version is the best.
The Switch edition of Dragon Quest is the greatest and most worthwhile version of the game; it includes a plot, a new 2D version of the game, the choice of a Japanese voice-track, orchestrated music, picture mode, and much more. To obtain the genuine ending, you'll need to play the game for around 80-100 hours.
I'm 25 years old, and I'm pleased to tell that Dragon Quest 11 made me weep; it's one of the finest RPGs ever, and you owe it to yourself to play it.
I'll explain why it's worth it on the Nintendo Switch, but if you like RPGs, you owe it to yourself to get this game!
On Amazon, you can get Dragon Quest for the best price imaginable.
If you're looking for the greatest Switch accessories, you can get them here on Amazon.
Why Is Dragon Quest 11 Worth Playing On The Nintendo Switch?
It's the most up-to-date version of the game.
The PS4 version of Dragon Quest 11 was released in 2017 and missed many of the features that made the Switch version the genuine definitive edition. I've never played the PS4 version, but I can't image how different the game would be without these additions!
The complete list of changes may be seen on Square Enix's website, but I'll go through them briefly.
For Companions, there are several new side stories.
Characters are crucial in all types of entertainment, from movies to video games, since you must choose to invest in them. Across the board, the characters in Dragon Quest 11 are great.
I can't express how much attention to detail goes into every character, from the warrior princess Jade to your closest friend, the thief Erik, and the voice acting is excellent throughout the whole game.
The Switch version features four side tales that go into great depth about each character and flesh them out. It's almost 5 hours of additional material, and each side tale is unique in how it plays and feels.
The whole game may be played in 2D mode!
As numerous churches serve as save stations throughout the game, you have the option of switching from 3D to 2D mode at any moment. It has a significant impact on how you interact with the game, and it even changes several plot aspects.
I'm not going to lie. I haven't played 2D mode since the 3D landscapes are stunning and we are no longer living in the 1990s, so I didn't see the purpose. In any case, you're getting two games in one since you can play the game in 2D mode and get a whole different experience.
Tickington's 16-bit World is worth a look.
Early on, you can visit Tickington, a completely optional area where you can explore locations from all of the main Dragon Quest games, all of which have been recreated in 16-bit 2D art. The games' soundtracks have also been recreated in an 8-bit style to fit in with the aesthetic, and it will be nostalgia overload for any Dragon Quest fan.
As for you, I assume you're new to the series, so Tickington will have less attraction for you; I didn't see Tickington much since I was too preoccupied with the main game!
You have the option of changing the voice track to Japanese.
If you're like me, you normally watch anime with English subtitles, then you may do the same with Dragon Quest 11. However, since the Japanese voice track is a new edition, you won't be able to do so with the PS4 version.
Should you use the English dub or the Japanese dub? Stick with English, in my view; all of the major characters' and even NPCs' voice acting is great, and each region of the game world is based on real-life nations!
Gondalia is set in Venice (complete with canals and boats), and all of the characters have an Italian accent! France, Scandinavia, Spain, Japan, and other nations are also represented!
You won't get this regional comedy with the Japanese version, and I doubt the experience will be as enjoyable.
Newly composed orchestral music
The Switch edition's completely orchestrated music is BEAUTIFUL, and it's one of the reasons why some sad situations, particularly towards the conclusion of the main game, tear at the heartstrings so hard.
The synthesised music in the PS4 version was criticized, and although you may switch between the new and old music at any moment, why would you? I saw one comment where a buddy came into him playing Dragon Quest and couldn't believe the music was from a game; he assumed he was listening to classical music!
New Battleground for Quick Battles
Have you ever been upset by how sluggish the fights may be while playing Pokemon? This version of Dragon Quest introduces a super rapid fighting option that significantly reduces grinding time.
Because the battling is entirely turn-based, this speeds up the fights and saves you time; what's not to like?
A Quick Command Menu helps you save time.
Many quality of life upgrades may be accessed with a single button press, making the game that much more fun.
Use the horse whistle to call your horse to you.
Determine the number of chests in the vicinity.
Use the Fun-Size Forge to get started.
Zoom can send you to any location you've been before.
These enhancements may seem little, but they have a significant impact on how you play the game.
There are many additional enhancements, such as optional outfits, forge upgrades, and so on, but for now, I'll focus on why Dragon Quest is such a great game.
Why Is Dragon Quest 11 So Great?
The Characters Are Outstanding
The cast of characters in Dragon Quest 11 all come from diverse backgrounds, but they're so full of life thanks to superb writing and voice acting that I think they're the finest cast of characters I've ever seen in any game!
I recall all of their names, and even one-time encounters with people or opponents are unforgettable. They'll make you chuckle, and if you're a softie like me, they'll make you weep!
The most wonderful thing about them is how much respect they have for you and how determined they are to defend you and accomplish the main mission; in Dragon Quest, anytime a character does a certain move, they will actually shout it out loud during combat! Increasing the level of immersion in an already intense game experience.
On Amazon, you can get Dragon Quest for the best price imaginable. masterpiece
Fantastic True Turn-Based RPG With In-Depth Mechanics
If you've ever played a turn-based RPG like Final Fantasy, you'll be right at home with Dragon Quest 11. What I enjoy about it is how basic it is; it's entirely turn-based, with the characters' 'agility' determining who goes first.
The game defaults to 'auto-attack,' which means you have no control over your party's movement. I suggest changing this to 'listen to commands,' so you have control over your party's movement. Also, I recommend switching to 'traditional' camera mode, since the free option looks odd and adds nothing to the gameplay.
All of the standard character categories are there, such as black/white mage, and you may enhance your party's stats while debuffing your opponents, but the game's unique feature is the way you can customize your character.
When your character levels up, you get skill points that you may use on a character's skill tree, similar to the leveling system in Final Fantasy 12. These builds dramatically alter the way your character plays, as well as the weapons and skills they learn.
Even better, if you're unhappy with how you used your skill points, just spend some money at any Church and your skill points will be reset to zero! This allows for playable experimentation and replayability (despite the game's length of more than 80 hours!) to see how your characters perform with various builds.
Your characters may be 'pepped up,' which causes them to scream and light blue in pulsing energy, much to Super Saigon from Dragon Ball Z. Every stat is boosted when pepped, and you may use unique 'pep powers,' which are extraordinarily strong techniques that can be chained with other characters for tremendous damage or other stat-boosting effects.
The Game Is Stunning
You won't notice the difference since it's a PS4 game converted to the Switch! The cinematic sequences and basic 3D settings are very amazing, and I played it completely in handheld mode. That's why I've never tried the 2D mode!
I've often taken a step back and scanned the area with my camera, marveling at how good this is for a hand held!
I definitely suggest the Satisfye Comfort Grip for portable Switch gaming; I've never looked back since I first used it, and playing the Switch without it is quite painful. Here's a link to Amazon where you can get it for a bargain.
The Universe Is Extremely Immersive
While you may be able to get away with rushing through the game and without speaking to anybody in this enormous globe, you will be doing both Dragon Quest and yourself a disservice.
Some towns are HUGE, with loads of locations to explore and NPCs to converse with; I've spent hours strolling around them, listening to what the NPCs have to say about current events.
The language is continuously changing, and NPCs respond to what you and your group do in the environment, making the game world seem far more alive and well-realised than even realistic-looking gaming worlds like GTA.
You don't have to since the cutscenes are already amazing, but it's the little things of chatting to everyone and hearing what the NPCs have to say that make Dragon Quest's world seem more alive.
You Get A LOT MORE FOR YOUR MONEY
In today's world, game companies are always requesting your money, and incomplete narrative repackaged as DLC leaves a nasty taste in your mouth.
With Dragon Quest, this is not the case! I've put in around 60 hours and have just completed the main game, with the post game to go! I also skipped through a lot of the map's numerous side objectives.
I can't think of a better way to spend your money than on a JRPG; a game that lasts 80 hours or more will make you happy knowing you got your money's worth.
The post-game might have simply been included as DLC, but Square Enix chose to reward the player with even more incredible stuff. What's not to like about that?
The "dragon quest xi switch worth it reddit" is a question that has been asked by many people. The game is available on the Nintendo Switch, but does it live up to the hype?
Frequently Asked Questions
Is Dragon Quest XI better on Switch?
A: Dragon Quest XI is available on a variety of platforms, including PlayStation 4 and Switch. All versions are relatively similar in terms of gameplay quality.
Does Dragon Quest run well on Switch?
A: Dragon Quest on a Switch is not usually recommended. Nintendos hardware in general has some issues with games that require complex 3D graphics.
Is Dragon Quest 11 definitive edition worth it?
A: This is a tough question. Dragon Quest 11 Definitive Edition, while it has great features and content, does have some faults that will cost you $50 or more to fix up the game. The first one being that there are many bugs still in the game which can be frustrating as hell if you end up digging through them for too long without an update patch getting put out by Square Enix. The second thing is just how much of a grind your going to need to do with this version of DQ11 because its not actually all new content like most remakes would offer but instead re-releases everything from prior games so players could jump right into it when they have time after playing other entries in the series before hand.
Related Tags
dragon quest 11 switch reddit
dragon quest on switch reddit
dragon quest 11 review
dragon quest xii
dragon quest xi s reddit