The Nintendo Switch is a lot of fun to play on, but it's also highly targeted towards children. Does the Switch live up to its "family-friendly" reputation?
The Nintendo Switch is a gaming console that was released in March of 2017. It has been marketed as being an easy to use device for children. The Nintendo Switch is not the first game console to be marketed towards children, but it's one of the few consoles that can be used both at home and on the go.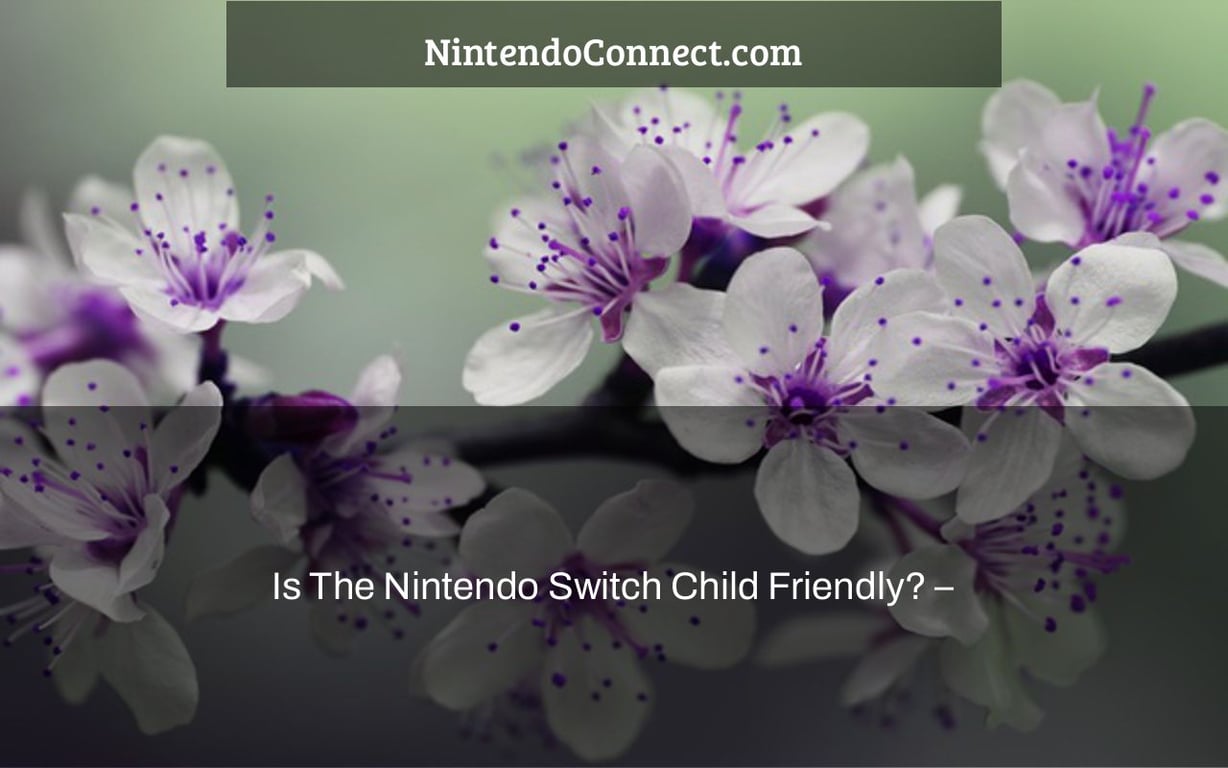 As a parent, I'm sure you're thinking whether your kid is old enough for the Nintendo Switch. I looked all over the internet for an answer to this topic for you and other people like you.
Because it offers parental controls, the Nintendo Switch is perfect for youngsters aged 5 and above, as well as the whole family. Nintendo has always provided age-appropriate material, however some games' controls may be too challenging for children under the age of five.
Stay tuned as we go through everything that makes the Switch so fantastic for families.
The Nintendo Switch Is The Ideal Console For Families
Because of its adaptability, the Nintendo Switch is a perfect family system. The original Switch may be played in handheld mode, as seen in the image above, as well as docked and enjoyed on the television.
The system will have a pair of joy-cons (shown above) that may be used as a single controller (shown below) or as individual controllers!
This provides the system a lot of flexibility since you can play a single-player game when the Switch is in "docked mode," then divide the controller into two and have a fun family gaming session!
See how Nintendo Switch is the ultimate family gaming platform in the video below!
https://www.youtube.com/watch?v=s 8HMVFDg5M
Even better, you can take your Switch with you while you're on the go, such as going to your parents' place. Simply unplug the Switch, and your kids or spouse may play it in the vehicle while you drive or use it for amusement everywhere you go.
The Switch's adaptability has made it the most unique system ever created, and Nintendo deserves credit for this technical achievement. It may be played by yourself as a lone player, with different control choices for the entire family, or even as a portable while you're out and about.
What's not to appreciate about that? With the Nintendo Switch, you practically get two systems in one.
Nintendo's Legacy Is Age-Appropriate
Nintendo is a game corporation with almost 30 years of expertise and a history of producing family-friendly entertainment. PEGI is a game age rating system that indicates what age group a game is appropriate for. The following is an extract from the official Nintendo website.
1. An Age Rating Icon on the front of the box, indicating which age groups the game is appropriate for. Three, seven, twelve, sixteen, and eighteen are the five PEGI age ratings.
2. On the back of the package, there are Content Descriptor Icons that tell you what kind of content is in the game. Discrimination, Drugs, Fear, Bad Language, Sex, Violence, Gambling, and Online are the eight sorts of material highlighted by the descriptors (for additional information, see the 'PEGI content descriptor symbols' below).
 
The great majority of Nintendo games are rated for young children or everyone, and "titles in this category may feature little cartoon, fantasy, or light violence and/or rare use of mild profanity," according to the official website.
The majority of violence in Nintendo games is funny and moderate, with significantly less violence and explicit themes than in most current media or what your children will see on the news.
Of course, the Nintendo Switch contains adult material, but you have control over what your children view and how they use it. There is just so much family-friendly entertainment that the whole family can enjoy, and the majority of the controls are simple to understand and use.
The majority of Nintendo games have a short learning curve but a high skill limit, making them simple to play yet difficult to master. Certain games, such as the cartoon combatant Super Smash Ultimate, seem to be simple at first glance and can be played by anybody, but when you scratch the surface, the gameplay is rich and tough.
It's tough to create games that appeal to both casual/children and more serious gamers, but Nintendo has done it time and time again.
Super Mario Odyssey, one of the finest games of this generation, is wonderful for all ages and is intended for children aged 5 and above, while Mario Kart is a fun racing game that can be enjoyed by the whole family and is targeted for the same age group.
Other systems, such as the Xbox One and PS4, simply cannot compete with the Nintendo Switch's library of family-friendly titles with high production qualities.
I can't think of any family-friendly console without the word "Nintendo," which says a lot about what the brand "Nintendo" stands for.
Take a look at this list of the top 10 Nintendo Switch games for kids to get some ideas!
How Long Will The Nintendo Switch Last?
As a parent, I'm sure you don't want to spend a lot of money on a game system just to have your 6-year-old damage it in the first week.
Fortunately, the Nintendo Switch is a very resilient system. I've had mine for 6 months and have dropped it a few times, but it shows no signs of wear and tear and seems to be in good working order.
Take a look at the 2:06 mark in this video. A Nintendo Switch has been dropped 1000 feet and is still functional! I'm not sure what more to say about the Nintendo Switch's durability if it doesn't tell you anything.
The joy-cons, on the other hand, are not made of the most durable materials and may shatter if dropped. They're little and might be a choking danger if you have small children. The Nintendo Switch, on the other hand, is fairly durable in general.
The screen is covered by a sturdy plastic coasting, but I strongly suggest obtaining a tempered screen protector, such as this one from Amazon, to preserve your pricey gaming computer and to simply be on the safe side. You don't want the screen to crack since replacing it is incredibly costly.
To obtain a genuine reflection of the Switch's durability, check out this EXTENSIVE durability test. You'll know how sturdy the console is and whether it's safe for your kids after seeing this video!
Is There a Parental Control on the Nintendo Switch?
I'm not a parent yet, but I understand how vital it is to have complete control over how your kid uses their Nintendo Switch. Fortunately, every Switch includes full parental settings, so you can keep track of everything.
The following excerpt is from the official Nintendo website, and it discusses the Nintendo Switch Parental Control software, which works on both iOS and Android smartphones.
The Parental Controls for the Nintendo Switch smart device app is a free smart device software that you may use to monitor what and how your children are playing on Nintendo Switch. If you don't have access to a smart device, you may set certain limits directly on the Nintendo Switch.
Parental Controls for the Nintendo Switch
You may use the app to keep track of your child's gaming time and set a time restriction for how long they can play. When the timer runs out, the Nintendo Switch will sound an alarm, signaling that the game is done.
It's no longer merely an alert; with the suspend software function, you may have the game switch off automatically when the time restriction is reached. Sorry for the inconvenience, kids!
Now you want to monitor what games your child is playing? No problem as the Parental Controls for the Nintendo Switch smart app gives you a detailed report on what videos games your child is playing and how long for, this can also be read as a monthly report so you can easily see what games your children are interested in.
You may wonder whether I can limit games on the Nintendo Switch based on my children's ages. You'll be relieved to know that you can! Based on the PEGI age classification given above, you may prohibit children from playing games that are not suitable for their age group.
You may also limit how much other users can communicate with you. Although we have no control over how others behave online, you may limit your child's ability to send and receive messages/images from other Nintendo users. This holds true for certain games as well.
Check out this helpful guide on how to set up parental controls on your Nintendo Switch so you know what you're getting into before you buy one!
Is it possible to track a Nintendo Switch if it is lost or stolen?
The Nintendo Switch, however, does not come with a built-in tracking system. There is, however, a $20 option called a Tile Mate that you can get from Amazon (here).
This little gadget attaches to your Switch and communicates with a mobile app, telling you of its whereabouts through Bluetooth tracking. It's restricted to close proximity, but it may save your life if you realize it's gone while the Switch is still nearby.
Although, if your Switch is within Bluetooth range of another Tile user, Tite has a community that will give you an alert.
While not ideal, a tile will rescue your Switch if you realize it's been misplaced and it's still within Bluetooth range, and it's a better option than having no recovery technique at all.
Check out this Tile Pro review to get a better idea of what the gadget is all about. It can be used to monitor whatever you choose, including your phone or laptop, not simply your child's Switch.
Nintendo Switch Membership for Families
Nintendo provides a discount on its online services for families, which will excite you! A single online membership costs $20 per year, while a family membership is $35 per year!
A Nintendo Switch Membership for Families gives up to eight different Nintendo Account holders Nintendo Switch online for one year. This works out to fantastic savings as if you have 8 different family members it will cost less than $5 a year for the membership so all your children and anyone else in your family can be blessed with online savings!
The 8 accounts may be divided over many consoles, so even if you buy two switches, your family membership will still be valid.
Check out this handy tutorial on how to easily set up Nintendo Switch Membership for Families in no time!
Is It Better To Buy A Nintendo Switch Or A Nintendo Switch Lite?
I'm sure you've heard that the Nintendo Switch comes in two distinct versions: the original and the Nintendo Switch light. The key difference between the two is that the light has a smaller screen than the Original, which is 6.2 inches, and it's primarily a portable gadget that can't dock to your television.
Which is the best option for your kids? Well, I'd suggest the original Convert since the option to switch between portable and docked mode is what makes the Switch so versatile for families in the first place, and if you purchase the light, you'll lose that crucial feature.
Although the Switch lite is much lighter and more comfortable for lengthy handheld gaming sessions, if your children will mostly use the Switch in handheld mode, the Switch lite is the superior pick. It's also approximately $100 less expensive, but you don't get the "Switch" feature.
For a better idea, look at this comparison between the two devices.
Should You Get Your Kids The Nintendo Switch?
Nintendo has long been the industry leader in family-friendly gaming, and the Nintendo Switch is the most family-friendly system ever created.
Flip's ability to switch between home console and handheld device enables it to serve as both a home gaming system for multiplayer family games like Super Mario Party and Super Mario Kart, as well as a portable gaming machine for on-the-go gaming.
It includes excellent parental settings that give you complete control over both the games your children play and how they connect with others online, as well as the option to suspend applications if your children exceed the time limits you set.
Nintendo Switch Membership for Familiess gives you a fantastic option to save money for your entire families online Nintendo membership, and Sony and Microsoft simply do not offer this fantastic value.
Is it better to purchase the Switch or the Switch Lite now? I still think the regular Switch is the greatest choice because of its adaptability, but the Nintendo Switch Lite is a great alternative if you want to save money and your child will just use the game in portable form.
To be honest, the Nintendo Switch is a terrific system that is appropriate for players of all ages; get the cheapest pricing for the new and improved Nintendo Switch here, as well as the Nintendo Switch Lite here.
FAQ
The Best Nintendo Switch Games for Families
Super Smash Bros. Ultimate is a video game developed by Nintendo.
Let's Go! Pokemon: Catch 'Em All! Pikachu/Eevee.
Super Mario Kart 8 Deluxe: I'll Race Ya!
Super Mario Party: It's Party Time!
Dinner is ready, but it's overcooked!…
Super Mario Odyssey: It's-a-Me!
Cut it Out, Together with Snipperclips Plus!
1-2 Switch: More Party Games!
Products to Consider
amFilm Nintendo Switch Tempered Glass Screen Protector (2-Pack) (Amazon Link)
amFilm Nintendo Switch Lite Tempered Glass Screen Protector (3-Pack) (Amazon Link)
-1 Pack Tile Mate(2020) (Amazon Link)
Nintendo Switch Joy-Cons in Neon Blue and Neon Red (Amazon Link)
Turquoise Nintendo Switch Lite (Amazon Link)
Related Tags
should i get my 7 year old a nintendo switch
nintendo switch games
what age is nintendo switch for
nintendo switch dangers
age for nintendo switch lite